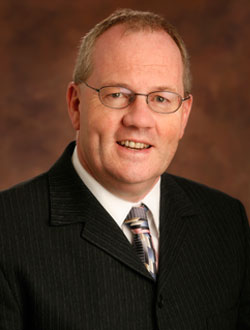 A keynote speaker and business humorist Conor Cunneen has developed an inspirational, fun-packed keynote speech about his prostate cancer experience. It is probably only a Chicago-based Irishman who could develop a keynote titled "It's Just a Flesh Wound" about the experience of prostate cancer.
Cunneen was diagnosed early 2007. "There are a number of treatment options available ranging from radiation to prostatectomy, in other words the removal of the prostate," he said in his light lyrical brogue. Prostate cancer develops slowly so the former Marketing VP had time to consider his options. "I did a lot of research on the topic, spoke to a lot of people and ultimately opted for the prostatectomy. My information systems, i.e., my wife, advised I had to purchase new pajamas for the hospital, so that is why I entered Northwestern Memorial Hospital with pajamas bearing the Monty Python legend 'It's Just a Flesh Wound.' I've been blessed with a great attitude and I believe every cloud does have a silver lining. As a result, I created a keynote of the same title. It is perfect for all conferences and events where an uplifting feel-good message is appropriate, which is basically everywhere."
Conor says "As many as a quarter million men will be diagnosed with prostate cancer this year, but it does not have to be life threatening especially when found and treated early which is why the National Prostate Cancer Awareness Foundation (PCaAWARE) is so vital. There is no good reason that almost 30,000 men die from prostate cancer each year."
This is Cunneen's second bout with cancer. "I had thyroid cancer some years ago when living back in Ireland. They whipped that out as well. I tell my audiences when I keynote that having had a prostatectomy and a thyroidectomy, I now have a unique Irish condition called 'there's not much left-o-me.'"
This ebullient Irishman's communication style has been likened to an "Irish Dilbert," and "James Joyce meets Tom Peters." His keynotes combine business experienced garnered in Ireland, UK and USA with a truly impish sense of humor. "As a keynote speaker and business humorist, I endeavor to provide Substance with Humor. I often develop purely humorous business material which I can then weave into serious business messages. That is when it becomes a real win-win."
Conor is a former VP Marketing with multinational giant Unilever. He is a Chicago Humorous Speaker of the Year and is a very proud recipient of the President's Gold Medal for Volunteer Service. He is also a man who provides Substance with Humor to help improve people….. performance….. and productivity.