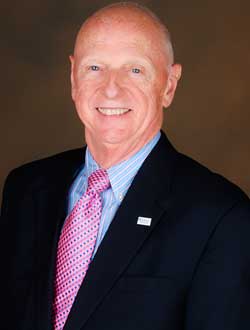 The topic of personal safety took on a new meaning for Dennis in 2013 when he was diagnosed with prostate cancer. While the early discovery played a critical role in his successful treatment, he was outraged to discover that fewer than 47% of men are aware of how to protect themselves from this potentially deadly disease.
In sharp contrast and thanks to the work of Susan G. Komen, 85% of women are aware of the warning signs for breast cancer and discuss it openly. Men on the other hand often ignore doctors, and habitually remain silent about a disease that is second only to lung cancer in taking men's lives. Currently 3 million American men are impacted with this disease, some as young as 30 and 40 years of age. It was clear something needed to be done.
"Given men's resistance to visiting physicians, it is often the women in their lives who are best positioned to encourage men to go for annual prostate exams."
Following the example set by Susan G. Komen, Dennis founded the National Prostate Cancer Awareness Foundation Inc. (PCaAWARE) in 2014. At its core,The Foundation is a speaker's bureau whose mission is to educate men and women on the need for all men to protect themselves and their families against a silent killer that often shows no signs until it is too late.
A professional speaker and author of What To Know, Do And Say To Be Safe, (A woman's guide to personal safety) Dennis is the Past President of the National Speakers Association, CT and a member of the Global Speakers Federation. He travels throughout the United States and Canada speaking on the challenges men and women face at work… at play… and in life.
Most requested topics concerning men's health include:
Reducing The Financial Burden of Employer & Employee Health Care Costs
Women, Prostate Cancer And The Men They Love
Breaking The Silence Surrounding Prostate Cancer
Out of the Blue – Surviving Cancer…A Personal Journey
African American Men …The Deadly Consequences of Prostate Cancer